Lynnville Park Mountain Biking Trail
in Lynnville, Indiana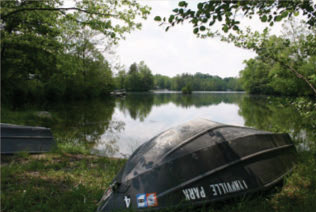 Site Info:
Lynnville Park
P.O. Box 309
Lynnville, Indiana 47619
E-mail: Lynnvillepark@aol.com
Phone: 812-922-5144

In 1964, Peabody Coal Company deeded 1,100 acres of reclaimed strip mine ground to the Town of Lynnville for recreational purposes. Today, Lynnville Park is more popular than ever as a haven for fisherman and campers alike.

Lynnville Park features a 275 acre lake stocked with largemouth bass, crappie, bluegill and catfish. Visitors can utilize the park's concrete boat ramp and handicap-accessible fishing pier while in search of the day's big catch; Jon boat rental is also available. Campers can choose from nearly 24 modern sites and over 30 primitive ones.

Lynnville Park features bike trails and is host to the Black Coal National Enduro, a regional event drawing dirt bike riders from throughout the Tri-State. The park also hosts hare scrambles for the LA Dirt Riders .

One of Lynnville Park's unique features is the Wahnsiedler Observatory, home of the Evansville Astronomical Society. If you dream of spending a night gazing at the stars, check out the observatory's two telescopes: a 14 inch Celestron Schmitt-Cassegrain reflector and a 12. 5 inch Cave Newtonian reflector on a clock-driven, computerized equatorial mount.
Number of Campsites 69
Number of sites with Electric 39
Number of full hookup sites 24


Directions:
From I-64 go to the Boonville/Lynnville , exit # 39.
Go north on Hwy 61 to Hwy 68. Go west on Hwy 68 1.5 mi to Lynnville Park.
Turn right - park near the camping area


Trail Map:




Location: Google Maps
Website/Info: Lynnville Park Info
Level: Intermediate to Advanced
Length: 6 miles of trails. Difficult - old strip mine
Surface: Single Track and Dirt Roads

Note:Many obstacles prevent endless riding for long periods,
not recommended for beginners



Photos
Coming Soon !!
Copyrighted? names are used in an editorial manner only,
and to the benefit of their owners, with no
intention of infringement of their Trademark? and/or Copyright?.