Yellow Banks Recreation Area
Mountain Biking Trails
in Selvin, Indiana
----> UPDATE <-----


This trail system is no longer in existance. Trails may still exist but are no longer maintained as a MTB trail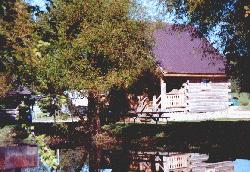 Directions:
From I-64 (east of Evansville, between US 61 and US 231) take Hwy. 161 South to Hwy 68.
Turn right (west) onto Hwy. 68 and continue west to CR 700 E in Selvin.
Turn right (north) onto CR 700 E and continue north approx. 0.7 miles
to the Yellow Banks Recreation Area park entrance on the left (west) side.
The trail starts just over the lakes dam to the left.


Map Info: Map to Yellow Banks Mountain Biking Trail

Trail Map:




Location: Google Maps
Website:Yellow Banks Recreation Area
Level: Intermediate
Length: 2 Miles
Surface: Single Track, Double Track and Gravel Road

Copyrighted? names are used in an editorial manner only,
and to the benefit of their owners, with no
intention of infringement of their Trademark? and/or Copyright?.