Wabash and Erie Canal Trails
in Evansville, Indiana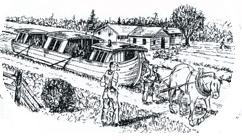 Wabash & Erie Canal 1832 - 1874



On March 2, 1827, Congress provided a land grant to encourage Indiana to build the Wabash & Erie Canal. The original plan was to link the navigable water of the Maumee with the Wabash through the seven mile portage at Fort Wayne. Work began five years later on February 22, 1832 in Fort Wayne. Construction proceeded west as the canal reached Huntington by 1835, Logansport in 1838, and Lafayette in 1841. Work was also performed east toward the Ohio line, but the canal did not open to Toledo until 1843. A second federal land grant enabled the canal to reach Terre Haute by 1849.

At Evansville, 20 miles of the Central Canal had been completed north by 1839. The W & E was extended south in the late 1840's through the abandoned Cross-Cut Canal works to Worthington and then south following the old proposed Central Canal route. The connection with the Evansville segment was completed in 1853 forming the longest canal in the United States. By 1860, portions south of Terre Haute were closed and the process of decline continued northward. In 1876, the canal was auctioned off by the trustees. ....more


Trail Info:
Located at the far northern edge of Wesselman Park, stretching "originally" from the Boonville Trail in the nature preserve to the tennis court area on the north western edge of the park. You can enter from the north parking area as noted on the map, there is a large trail opening there that heads up towards the canal and splits east and west.

Location: Located at the far north edge of Wesselman Park

Directions: Google Maps
Surface: Dirt, mulch added for mud and drainage.




Map Info: Wabash trail map

See Also:

Wabash and Erie Canal

19TH CENTURY U.S. CANALS

Completion of Gronauer Lock

Historic Photos

Canal was a failure, but an era of growth followed

Interest runs deep in Wabash and Erie Canal

THE INFLUENCE OF THE WABASH AND ERIE CANAL ON THE DEVELOPMENT OF TWO NORTHERN INDIANA COMMUNITIES 1830-1860

Wabash & Erie Canal, Lock No. 2, 8 miles east of Fort Wayne, adjacent to U.S. Route 24, New Haven, Allen County, IN

Canal's Gronauer Lock could be reburied

Wesselman Park

Evansville Suburban & Newburgh Railroad




Copyrighted names are used in an editorial manner only,
and to the benefit of their owners, with no
intention of infringement of their Trademark and/or Copyright.