USI Mountain Biking Trail
in Evansville, Indiana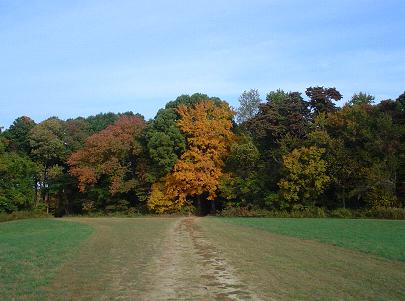 Located on Evansville's West side
on the grounds of the

University of Southern Indiana
Directions
: Follow 62 west to the university, from there take University Blvd to Bennett Lane. Take Bennett Lane to the baseball field, entrance is to the right of the field
Map Info
:
Map to trail head location
Map of biking trails
See Also :
Bent Twig
Burdette Park - USI Trail
Location
: Evansville, In
Level
: Intermediate /Expert
Length
: 10 Miles
Surface
:Dirt

Review
:
This is actually USI's Cross country track so watch out for runners. Lots of steep hills and small creek crossings. Great ride for the healthy rider. I enjoyed this trail to a point, it has too many long climbs for a novice rider. The downhill runs are the best in the area, but be prepared to walk your bike up some long steep inclines. Also, some of the trail has been lost due to expansion. Novice riders may want to stay on the west side of the center trail, there are much flatter and smoother trails on this side.
Overall this is a great trail if you like fast downhill runs, death defying jumps and long uphill walks. Not much endless riding here unless you ride straight at the entrance or stay or the western side of the trail.
Note
:
This trail has alot of exposed roots and loose dirt, It is EXTREMELY muddy after heavy rains.
Other Reviews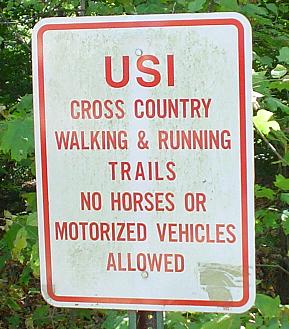 A large step in technical ability, is to ride the trails at the University of Southern Indiana. There are two options to choose from-along Reflection Lake or behind the baseball men's diamond. A mountain bike for both is practically a requisite. The hilly terrain demands a bike with different gearing options. Beginning at the edge of the western parking lot, the main trail along the lake is wide and fast but has a few short hills that are nearly impossible to ride all the way to the top. Scales warns that one section sports railroad ties for stairs and could be dangerous for novices. He advises riding the minor trails that lead near the lake's edge. "They're tight trails, and with the lake you have some scenic resting spots." Relatively short, the trails can be ridden in less than an hour but provide enough terrain to be challenging and scenic. Behind the baseball diamond is a wide road that offers decent riding, especially for novices. It begins flat, then features hairpin curves and steep hills. It opens to a field, so you can either explore other trails or backtrack. Along the road, trails abound, and this is where the adventure really begins. Scales says, "There are enough trails to keep riding for hours. Although the grounds are limited, it's easy to feel lost. More than the trails around Reflection Lake, these require a decent level of physical ability. The hills are longer and the terrain more varied, from flat dirt to rutted, washed-out downhills." A number of hills are long and steep. Even experienced riders have to dismount and walk their bikes. The principal obstacle is the frequent hills ... which are exhilarating to ride down but discouraging to walk up. "It helps to be in shape to ride at USI. It's a good place to get in shape, though, just by working on the hills," Scales adds. However, if you see large crowds (and no baseball game), find another place to ride. The trails are also used for cross country running meets.
Credit: Matt Maxwell, Courier & Press Correspondent





Copyrighted? names are used in an editorial manner only,
and to the benefit of their owners, with no
intention of infringement of their Trademark? and/or Copyright?.